This contains content or features that may be part of the next release.
The content may have appeared in Development versions but the full update with these features has not had an official patch yet.
The content in this page is heavily subject to change.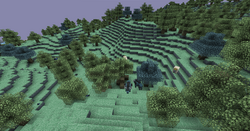 Highlands are a biome. They are the main biome and the player's starting biome.
Generation
Issues
History
Gallery