Icestone Cooler




This contains content or features that may be part of the next release.
The content may have appeared in Development versions but the full update with these features has not had an official patch yet.
The content in this page is heavily subject to change.

Icestone Coolers are used for cooling items in the Aether.
Icestone Coolers can be mined using any pickaxe. If mined without a pickaxe, it drops nothing.
Block
Icestone Cooler
Hardness
3.5
Tool
Breaking time[note 1]
Hand
17.5
Skyroot
2.65
Holystone
1.35
Zanite[note 2]
0.9 - 0.3
Arkenium
0.7
Gravitite
0.7
↑

Times are for unenchanted tools in seconds.

↑

Times in order are the slowest to fastest mining speeds based on the tool's durability.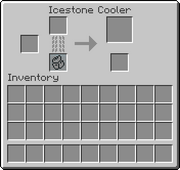 The Icestone Cooler can be right clicked to open its GUI. The GUI consists of five slots. The bottom left one acts as a fuel slot in which Icestone can be put into. The slot above the fuel slot and the slot to the left of it both act as input slots, in which crafting ingredients can be put into. The two slots on the right act as output slots, in which crafted items will be output. The Icestone Cooler is functionally the same as a furnace other than the additional slots that allow for more complex crafting.
| Block | Namespaced ID |
| --- | --- |
| Icestone Cooler | aether:icestone_cooler |
Issues relating to Icestone Cooler are maintained on the Aether Issue Tracker. Report issues for Icestone Cooler there.
| | | |
| --- | --- | --- |
| " | Made from Zanite and Holystone. Enchants items and repairs tools | " |
| | ~ Book of Lore | |
Altars are a type of utility block found in the Aether.
An altar requires a Skyroot Pickaxe or better to be obtained, in which when mined, it will drop itself. If mined without a pickaxe, it will drop nothing and be destroyed.
Block
Altar
Hardness
2
Tool
Breaking time
Hand
10
Skyroot
1.52
Holystone
0.92
Zanite and Valkyrie*
0.76
Gravitite
0.52
*Times are from unenchanted tools in seconds, and Zanite with max durability.
Altars are used to enchant items, which turns them into enchanted versions. Right-clicking the Altar with Ambrosium Shards will place them on the Altar. To enchant blocks and/or items, place them on the Altar via right-clicking, and it does not matter if Ambrosium Shards were added first or afterwards.
To remove shards, rightclick the Altar with anything other than possible enchantable blocks or items, and the shards will drop out. It can also repair both vanilla and mod items, although this function has been partially covered by the Anvil as of Minecraft 1.4.2.
| Icon | Achievement | In-game description | Prerequisites | Actual requirements (if different) |
| --- | --- | --- | --- | --- |
| | Do You Believe in Magic? | Craft an Altar | Enlightenment | Enchant a block or item using an Altar |
Initial release: Introduced, is now interactive and has a different appearance
1.7.10-1.2: Fixed ticking Altar crash
1.7.10-1.5: Fixed not being able to remove items on the Altar with an empty hand.
Altar's data values are:
| | | |
| --- | --- | --- |
| Name | ID name | DV |
| Altar | aether:altar | 281 (dec), 119 (hex), ‭000100011001‬ (bin) |